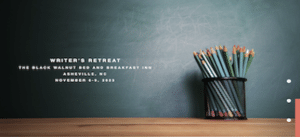 Women's Memoir Writing Retreat
Hosted by The Black Walnut Bed and Breakfast Inn – Asheville, NC
 Dates of Retreat:  November 6-9, 2023
Location:                  The Black Walnut Bed and Breakfast Inn
288 Montford Ave.   Asheville, NC   28801
Overall Description:
This is a writing retreat for women at all stages of their writing journey.  This retreat offers the space and environment for renewal, brainstorming and inspiration and allows writers time away from the hustle and bustle of everyday life so they can think, reflect, and create.  The theme for the workshops throughout the retreat will focus on "Memoir Writing" and will be led by Jennifer McGaha (see Jennifer's Bio below).  Workshop sessions will include brief readings, generative writing activities, and informal sharing with an eye toward appreciating what is on the page and making constructive suggestions for development.  Participants are welcome to come with ideas for writing in mind or simply with an open mind.  Writers of all levels are welcome.
Cost: $850 + Applicable Taxes
The Cost includes room accommodations for three nights at The Black Walnut Bed and Breakfast Inn, workshops, breakfast each morning (Tuesday, Wednesday, Thursday), lunch each afternoon (Tuesday and Wednesday), dinner Tuesday and Wednesday evenings, and social hour drinks with light snacks throughout the retreat.  The cost also includes the two optional activities scheduled for Tuesday and Wednesday (Tour of Asheville with focus on local writers and a Sound Healing Session at a local studio that is sure to make your creativity hum!  Pre-registration is required for both activities. 
Optional Manuscript Consultation sessions with Jennifer McGaha will be available at an added cost of $125.  Pre-Registration is required for any sessions, and anyone requesting consultation will need to submit a single creative nonfiction piece or multiple pieces totaling no more than twenty, double-spaced pages by October 5, 2023.  Jennifer will provide extensive written feedback and a 45-minute private consultation during the retreat.  Manuscripts should be sent as a Google or Word document to Jennifer at liberalgoats@gmail.com
How to Reserve Your Spot!
Either call us at: 828.254.3878 or email us at:  frontdesk@blackwalnut.com
A deposit of $400.00 is required to reserve your spot.
Room selection will be offered on a First-Come, First-Serve basis. Check the rooms out at blackwalnut.com.
Participation is limited. If all spots are reserved, we will gladly add you to the wait list if interested.  No deposits will be collected for wait-list participants until you have a confirmed reservation.
Participants are to adhere to The Black Walnut Bed and Breakfast Policies.
Cancellation Policy:
Refund of Deposit less a $35 process fee for any cancellation on or before October 6, 2023.
After October 6, 2023, deposits will only be refunded if we are able to fill the cancelled spot with a participant on our wait-list.